It was a proud week to be able to take part in the inaugural Meet Magento in Spain. Hosted at Hotel Convención on the east of the city and close to the beautiful Parque del Retiro. It was fantastic to explore in the downtime, basking in the famous Spanish sun.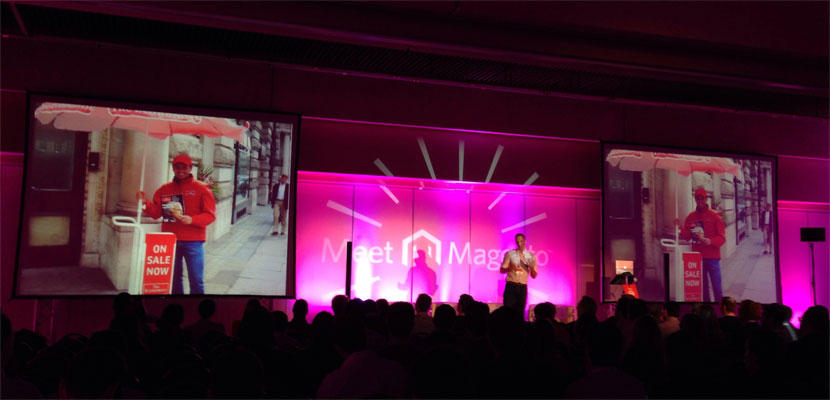 Official picture for the event are now on Google+.
Highlights
Over the two-day event there was a great selection of Spanish and English talks (translation available). They covered topics such as financing, project management, personalisation, development and continuous integration techniques to name a few.
There were many great talks and I recommend following tweets from Meet Magento Spain to make sure that you read through any presentations that are shared. However, here are a few of my personal highlights.
Guido Jansen offered his expertise and scratched the surface of online persuasion and what it means to your ecommerce store. Even more inspirational, and what a lot of us at the conference were waiting for, was hearing his opinions on the Future of the Magento Ecosystem. In summary, there is an opportunity for a global, community-focussed organisation to supplement the work that Magento does to provide a better all around experience for agencies and customers using the platform.

Ivan Chepurnyi shared from his wealth of knowledge on where Magento backend developers can optimise Magento for performance (slides are from Meet Magento DE and will be updated once slides for ES are available). Complete with code examples, this is one for every Magento developer to take note of.

Kuba Zwolinski, the organsier of Meet Magento Poland, fed back his discoveries from working in the B2B sector. This was very interesting as a lot of work has been done with B2C but the B2B market is even larger with opportunity for growth.
In between times there was a marketplace for merchants to find out about services that will complement their Magento store. While it was modest in size, there's room for growth next year!
The networking event after the first day was a good opportunity to meet other Spanish service providers and was a taster to the different culture and ecommerce environment in Spain.
Simultaneous to this event was a short hackathon in which #magebronies made an appearance.
International Community Support
As always, the international Magento community came out in force to support the conference. Attendees poured in from Romania, Poland, Ukraine, Netherlands, Germany, United States, Canada, Italy, Croatia and many more. This is the strength of Magento. And as was said at the conference, all attendees to the conference are now members of the Magento commmunity. Welcome!
Our Presentation
Darren and I were invited to share our experiences with responsive web design with Magento. We were able to include some of the information from our previous talks in the Netherlands and Poland as well as add some additional information from the latest developments in the field.
Please have a read through and you're welcome to drop us a tweet/email if you want to chat about anything in more detail. We'd love to hear from you.
Congratulations Interactiv4!
We would like to thank Ignacio and his Interactiv4 team for a fantastic event. Thomas Fleck himself bowed down in admiration that they were able to pull off such a fantastic event that was only put in motion at Christmas. Congratulations to all you all and I look forward to visiting again next year!