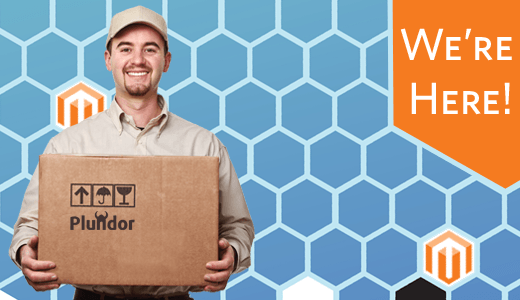 Plundor is offering 6 great Magento extensions at massively reduced prices in their first Magento extension bundle. Get your hands on all 6, valued at $1,272.50, for only $150. That's an incredible discount of nearly 90%!
We're privileged enough to be a part of the bundle with our automatic sale module. Use it to quickly create a page at /sale of your Magento site with all products that have a special price set.
It's only available until the end of Friday this week. So don't miss out, head over to Plundor to purchase the bundle now.
The Bundle
Automatic Sale Category – Meabee – £ 49.99 ($ 77.50)
Want to provide your users with a nice overview of all items in your shop that are on sale? Use this extension to do so, complete with product filtering and layered navigation.
Better Store Search – Sweettooth – $ 249.-
Manually Specify Weightings and use complete word processing to get more accurate (automated and controlled) search results so your users find what they need.
CheckItOut – Ecomdev – $ 349.-
Get your visitors through that checkout process as quickly as possible! Use this extension to create a short one-step-checkout process with a lot of configuration options.
Knowledge Base – Aheadworks – $ 199.-
Don't have a FAQ section or need to upgrade it? This section takes care of regular user questions getting information to the customer more quickly and having less customer requests by e-mail. Also a great way to build valuable content for your SEO rankings.
Red Mobile Theme – RedLightBlinking – $ 299.-
How many customers visit your website with their mobile device? Don't lose sales on those customers and get them their own special theme adapted for mobile devices. Easily customizable with your own logos and colors.
Task Manager – Nimerce – $ 99.-
Do you have multiple employees work in the Magento backend? Get them one central place to create and manage tasks and streamline your shop management flow.
Full bundle details are available at Plundor.